Seller Profile:
Resnick Distributors
25 Van Dyke Ave.
New Brunswick, NJ 08901
Contact: Steven Hudes
Phone: 848-209-8111
Website: https://www.resnickdistributors.com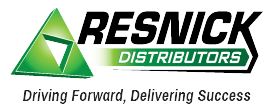 Summary
Resnick is a full-service distribution company, located in New Brunswick, NJ, carrying cigarettes and tobacco, snacks, grocery, frozen food, food service, & health and beauty products.
Type of Supplier
Distributor, Wholesaler, Closeout Broker, Liquidator, Service
Additional Information:
Resnick Distributors, now in its third generation, is in the top 25 of the largest convenience store distributors in the country. We often have amazing closeout deals on everything from snacks and candy to health and beauty. We ship anywhere in the USA and would love to hear from you.