Lot Detail:
Misprint Super Bright LED Flashlight Plastic Pen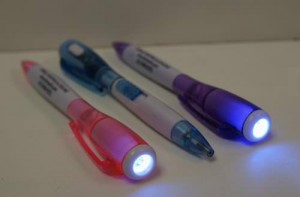 Category: Dollar Store
Date Posted: 11/18/18
Price: 25 cents each free freight
Quality: New
FOB: ILL
Shipping: Fedex Ground
Terms: Credit Card, Paypal, Cashier Check, Wire

Details:
Misprint flashlight pens come with existing company names pre-printed on the barrel. Each pen has a button on the top to turn on/off the super bright LED flashlight and a button on the side to retract the pen. Each pen writes in black ink.
Click here for PICTURE and info