Lot Detail:
Sit and Namaste Yoga Dog White Tee - 266 pcs. New Lower Pric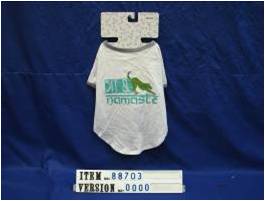 Category: Pet Supplies
Date Posted: 12/25/18
Price: .40
Quality: New
FOB: Eagan, Minnesota
Shipping: Buyer pays for shipping
Terms: Net 15 Days

Details:
Sit and Namaste Dog Tee in White. Sizing is XS - Large. Cotton Poly blend. Machine washable.