Lot Detail:
One Hundred striped party invitations, pack of 8 #KI503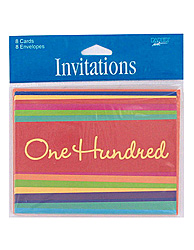 Category: Greeting Cards
Date Posted: 01/02/19
Price: $0.50
Quality: New
FOB:
Shipping: Buyer pays actual shipping cost to their location
Terms: Pay in advance with cash, check, credit card
Restrictions:
Details:
Use these invitations to celebrate a 100th birthday or some other 100 milestone. Some of these might include a 100-year celebration of a club or organization, or a celebration of the 100th day of school. Each package includes 8 4 x 6 invitations and 8 envelopes.