Lot Detail:
Gymnastics party invitations - #KI834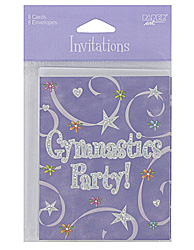 Category: Greeting Cards
Date Posted: 01/02/19
Price: $0.50
Quality: New
FOB:
Shipping: Buyer pays actual shipping cost to their location
Terms: Pay in advance with cash, check, credit card
Restrictions:
Details:
Let guests know from the invitation that this will be an active and busy party. These Gymnastics party! invitations feature silver accents on a purple background and inside allow plenty of room for all the party details. Package includes 8 invitation cards and 8 envelopes. Each measures 4 x 5.