Lot Detail:
liberty 2 sheets of decorative decals - #KJ027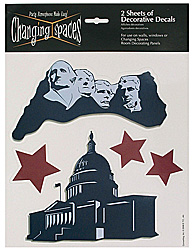 Category: Novelties
Date Posted: 01/03/19
Price: $0.50
Quality: New
FOB:
Shipping: Buyer pays actual shipping cost to their location
Terms: Pay in advance with cash, check, credit card
Restrictions:
Details:
2 Sheets of patriotic, adhesive backed, decorative decals. The set has the Mt. Rushmore Monument, the White House, and 3 red stars. The sheets holding the 5 decals measures 12 7/8 x 9 3/4 and the decals range in size from 8 x 3, 6 x 7, to 2 1/4 stars. Has a UPC code label. Made in the USA.