Lot Detail:
Vacation Window Clings - #AR374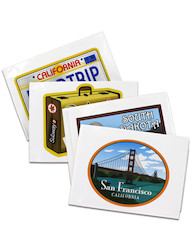 Category: Novelties
Date Posted: 01/03/19
Price: $0.59
Quality: New
FOB:
Shipping: Buyer pays actual shipping cost to their location
Terms: Pay in advance with cash, check, credit card
Restrictions:
Details:
Vacation Window Clings. Travel the USA! Kids love to learn about the wonders of the United States with these unique clings. Ideal for a school geography project or summer vacation party, these 5 1/2 - 7 road trip decorations cling to any glossy surface and are reusable.