Lot Detail:
Assorted wood fish - #GS341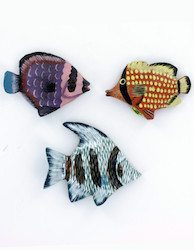 Category: Novelties
Date Posted: 01/03/19
Price: $0.35
Quality: New
FOB:
Shipping: Buyer pays actual shipping cost to their location
Terms: Pay in advance with cash, check, credit card
Restrictions:
Details:
These cute fish figures would be great in a bowl on a table or as accents at a fish or luau-themed party. Each measures 3 x 2. Each is made of painted wood.