Lot Detail:
Rectangle toggle sets - #CN050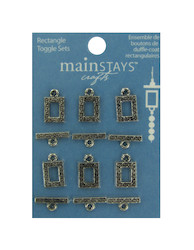 Category: Novelties
Date Posted: 01/03/19
Price: $0.49
Quality: New
FOB:
Shipping: Buyer pays actual shipping cost to their location
Terms: Pay in advance with cash, check, credit card
Restrictions:
Details:
Great for jewelry making, these toggle sets are attractive and have a designer look to them. This set includes 4 rectangle bead shapes with 6 toggles. Each piece has a squiggly design on it, adding a bit of a design element to the metal. All are in silver-colored metal.