Lot Detail:
Halloween invitations, no awkward fun here - #HM879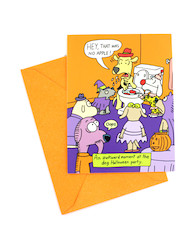 Category: Greeting Cards
Date Posted: 01/03/19
Price: $0.49
Quality: New
FOB:
Shipping: Buyer pays actual shipping cost to their location
Terms: Pay in advance with cash, check, credit card
Restrictions:
Details:
This funny set of 10 party invitations reminds us that with dogs in attendance, fun gets a fresh look. The inside of the invitations encourages partygoers to join for some laughs but no awkward moments at a Halloween party and gives plenty of space to share the details. Set includes 10 invitations and 10 envelopes. Each measures 4 x 5.