Lot Detail:
let loose spider 10 pack invitations/envelopes - #HM881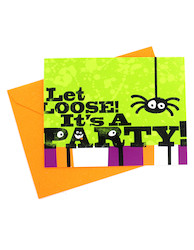 Category: Greeting Cards
Date Posted: 01/03/19
Price: $0.49
Quality: New
FOB:
Shipping: Buyer pays actual shipping cost to their location
Terms: Pay in advance with cash, check, credit card
Restrictions:
Details:
Party invitations by Hallmark. Time to celebrate and let loose. The spider theme is perfect for Halloween but there's plenty of room within to personalize for any party. The 10 pack has place set for For, Date, Time, and Place. Lime green with a black spider and wording and comes with bright orange envelopes. Invitations are 3 7/8 x 5 and the set comes in a poly bag with UPC code. Made in the USA.