Lot Detail:
Autumn themed invitations - #HM882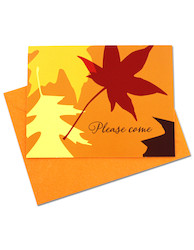 Category: Greeting Cards
Date Posted: 01/03/19
Price: $0.49
Quality: New
FOB:
Shipping: Buyer pays actual shipping cost to their location
Terms: Pay in advance with cash, check, credit card
Restrictions:
Details:
A set of 10 Hallmark party invitations decorated with leaves in autumn colors. Asking that you Please Come, inside is a place for party information and plenty of room to embellish as desired. The invitations are 5 x 3 7/8 and come with orange envelopes. The set comes in a poly bag with UPC code. Made in the USA.