Lot Detail:
Snowman Marjolein Bastin invitations, pack of 10 - #HM893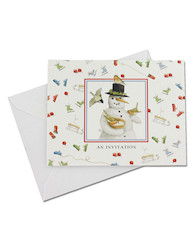 Category: Greeting Cards
Date Posted: 01/03/19
Price: $0.49
Quality: New
FOB:
Shipping: Buyer pays actual shipping cost to their location
Terms: Pay in advance with cash, check, credit card
Restrictions:
Details:
These sweet holiday invitations will ensure guests know they'll be welcomed into a warm and happy environment. Features a snowman surrounded by birds along with images of sleds, mittens and ice skates. From the Hallmark artist Marjolein Bastin. Package includes 10 cards and envelopes; cards have plenty of space for writing all the pertinent party details.