Lot Detail:
Mix and match party invitation inserts, aging - #HM927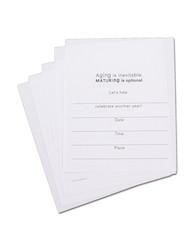 Category: Greeting Cards
Date Posted: 01/03/19
Price: $0.49
Quality: New
FOB:
Shipping: Buyer pays actual shipping cost to their location
Terms: Pay in advance with cash, check, credit card
Restrictions:
Details:
Create your own custom invitations with these inserts. Add these invitation elements to a card, add an overlay or other elements and create cards that are customized for your occasion or recipient. These birthday inserts say Aging is inevitable. Maturing is optional and offer plenty of space for the party information. Each measures 4 1/2 x 5 1/2.