Lot Detail:
Mix and match party invitation inserts, baby shower #HM928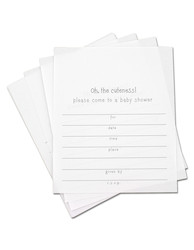 Category: Greeting Cards
Date Posted: 01/03/19
Price: $0.49
Quality: New
FOB:
Shipping: Buyer pays actual shipping cost to their location
Terms: Pay in advance with cash, check, credit card
Restrictions:
Details:
Create your own custom invitations with these inserts. Add these invitation elements to a card, add an overlay or other elements and create cards that are customized for your occasion or recipient. These baby shower invitation inserts say Oh, the cuteness! Plesae come to a baby shower. Each measures 4 1/2 x 5 1/2.