Lot Detail:
Hanford Floral Trailer Lot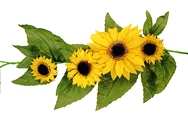 Category: Artificial Flowers
Date Posted: 01/29/19
Price: $2500.00
Quality: New Factory cases-90%
FOB: Buffalo,NY
Shipping: Pick up or trailer load
Terms: W/T or Cash on pick up
Restrictions: None
Details:
I have 3 trailers of artificial florals from Hanford Floral...mostly polysilk goods..picks, sprays, garlands, stems, etc. 100's of different items included! Most in inners and polybagged. No inventory-mixed on pallets.All new but older goods-Factory cases--a small amount may have been opened for sample /inspection-but very little. Here's the deal...24 pallets (minimum shoulder height-approx 5-6') per trailer-FOB Buffalo, NY. Full assortment of goods in each trailer...YOUR COST-$2500. /per trailer....goods may be picked up or we can get you a great freight rate...