Lot Detail:
Paint can pour spout - #GH509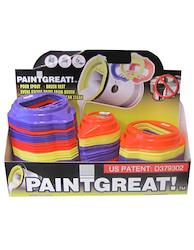 Category: Crafts
Date Posted: 07/02/19
Price: $0.39
Quality: New
FOB:
Shipping: Buyer pays actual shipping cost to their location
Terms: Pay in advance with cash, check, credit card
Restrictions:
Details:
The paint can pour spout helps prevent excess drips and spills. Pour spouts attach to can - keeping it clean and mess free. There are 3 sizes per display. Lid colors include purple, orange and yellow. There are 210 lids per display.