Lot Detail:
Name Brand Tools - 25 Pallets! only $7,915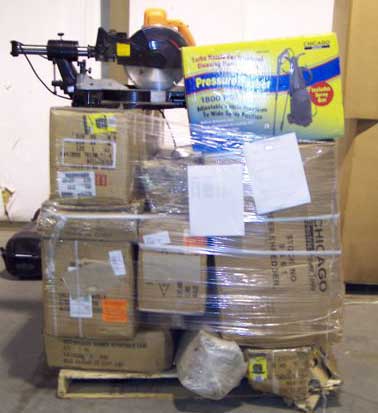 Category: Tools & Hardware
Date Posted: 08/07/19
Price:

Details:
Click here for more great deals & our exclusive money making specials
Brand Name Tools (Harbor F )-- 25 pallets
Huge variety of tools, such as air inline sanders, ATV lift, welding cart, battery charger, 1/2 " drill, angle grinder, air nailer, air hammer, jigsaw, impact wrench, hand trucks, hoists, circular saws, air compressors, pipe bender, planers, laser levels, lathes, generators, drill press, saw zaw, trailers, utility trailers, rotary hammer, sandblasers, water pump, air drill, cordless tools, alumn.racing jacks, ramps, automotive tools, meat slicer, cherry pickers, engine stands, car ports, cargo carriers, impact wrench, digital caliper, socket sets, pressure washers and more.
Your cost is only 23% of retail.
Retail  $34,414
Your Cost is  $7,915
AAA CLOSEOUT LIQUIDATORS
INFO: 718-377-6515 | ORDER: 800-726-6515


Minimum Order: $2500.00


** Rated EXCELLENT by D&B **
25 years of great deals - Up to 90% off wholesale cost!