Lot Detail:
PLASTIC STORAGE BOX 11X11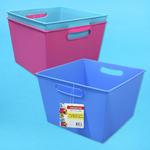 Category: Housewares
Date Posted: 10/19/19
Price: $0.85
Quality: Item : 57834
FOB: Los Angeles
Shipping: Varies
Terms: Varies
Restrictions: Min. Purchase: $250.00
Details:
Case Pack : 24
Inner Pack : 0
Case Pack Weight : 17.4 lbs.
Case Pack Volume : 2.44 Cubic Feet
Country of Origin : CHN
Place your order online at :
www.4sgm.com
There you will find over
10,000 dollar items
in more than 50 categories. Find here Licensed Items from Disney, Disney Princesses, Tinkerbell, Winnie the Pooh, El Chavo, Spider Man, SpongeBob, High School Musical, Hannah Montana & more! Kithenware, Housewares, Toys, Stationery, Bath, Apparel, and Accessories at Dollar Store prices.
Click now!