Lot Detail:
Holiday Returns, Clearance, Shelf-Pull Merchandise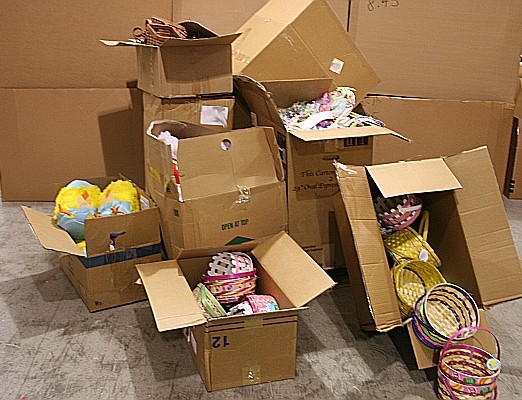 Category: Holiday & Seasonal
Date Posted: 11/02/19
Price: 314.00
Quality: Returns
FOB: Foley, Alabama
Shipping: LTL
Terms: Cash, Wire Transfer
Restrictions:
Details:
This pallet comes from a large truckload of clearance merchandise from a major department store retailer. This merchandise was purchased mainly as holiday clearance and overstock, meaning it is in good condition but may have some damage due to packaging, shipping, and general warehouse maintenance. This pallet stands over five and a half feet tall, and is composed of many boxes which are filled with everything from small goods, figurines, and small gift bag stuffers, to large wreaths, welcome signs, etc.Typical Customer Returns have a 15-25% damage/throwaway ratio.This merchandise is warehouse in a facility located in Foley, AL and is available via local pickup or freight shipping.Some merchandise you may find that was in this truckload includes but is not limited to:Yard Signs, Door Hangers, Gel Stickers, Party Decorations, Wall Signs, Basket Combos, Tons of Baskets, Easter Egg Hunt Cloth Baskets, Stuffed Bunnies, Moss Rabbits, Dip Bowls w/ matching spread spoon, Wreaths (decorated in several ways- with stuffed bunnies, welcome signs, painted wooden detailing, natural decoration, etc.), Stuffed Chickens, Plastic Eggs, Egg Coloring Kits, Egg Coloring Tools, Egg Coloring Mix Bowls, Egg Decoration Kits, Easter Bunny Memorabilia, Rabbit Figurines, Rabbit Decorations, Platters, Small Plates, Angel Figurines, Small Decorative/Collectible Figurines, A Wide Range of Stuffed Animals, Decorative Gift Pillows, Candles, Blankets, Candle Accessories, Notebooks, Pencils, Binders, etc.American Merchandise Liquidators, inc. has been in business for over 19 years. Their expertise and industry shaping know-how is a valuable resource for both consumers and business developers. Known for having a wide variety of DOTCOM, Overstock, Marked Out of Stock, Shelf Pulls, Customer Returns, and Salvage Merchandise in their inventory, AML,inc. is a market trusted source for off-price, distressed goods. They have a highly qualified sales staff who offer great customer service. This company generally deals with lots, pallets, and truckloads, as well as the occasional large single quantity item.To inquire further about this merchandise you can email info@palletbid.com, or call (888) 550-4950.