Lot Detail:
Light blue ruffled lace for crafts or sewing - #RB147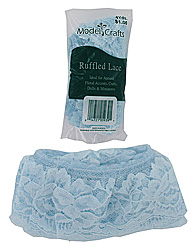 Category: Crafts
Date Posted: 01/31/20
Price: $0.46
Quality: New
FOB:
Shipping: Buyer pays actual shipping cost to their location
Terms: Pay in advance with cash, check, credit card
Restrictions:
Details:
This blue ruffled lace edging is ideal for craft or sewing projects. Generous 4 yards ensures there's enough for the whole project with some left over for a second project. Pretty light blue color ideal for a number of applications. Lace has some give to it (though not stretch) making it easy to work with and flexible for a number of uses.