Seller Profile:
OC Wholesales
2135 S GRAND AVE
SANTA ANA, CA 92705
Contact: Mike Rocha
Phone: 949-813-1610
Website: https://ocwholesales.com/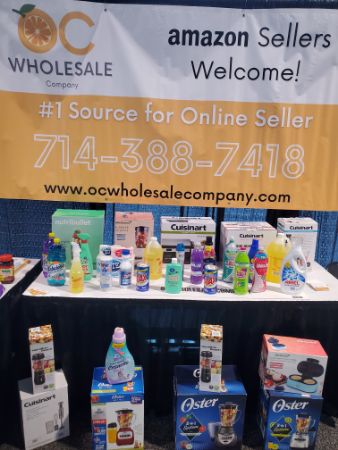 Summary
Apparel, Auto, Baby, Health, Beverages, Cosmetics, Electronic Accessories, Food & Grocery, Home Care/Decor & Appliances, Housewares, Kitchen, Office Supplies, Lighting, Pet Products & Toys
Type of Supplier
Manufacturer, Distributor, Wholesaler, Import/Export, Closeout Broker, Liquidator
Additional Information:
Serving the value, discount, convenience, dollar story, distributor & grocery classes of trade worldwide. For over 12 years, we have been the bedrock for our customers, supplying them with unmatched variety, value and service, offering the convenience of one-stop shopping. Amazon Sellers Welcome! Supplier Distributor, Wholesaler, Import/Export, Closeout Broker, Liquidator, Retailer Additional Information: WE WAREHOUSE OUR CLOSEOUTS, THAT'S WHY WE CAN NEGOTIATE THE BEST PRICING THE LARGER THE QUANTITY, THE LOWER THE PRICE. WE SHIP ALL SIZE ORDERS CONTAINERS TERMS: Contact us first if you are a first time customer. PAYMENT METHODS: Credit cards, wire transfers, money orders, certified checks, company checks (shipment will be shipped after first order funds clear our merchant banking account). MINIMUM ORDER: Contact us. LITERATURE AVAILABLE: N/A SHIPPING: FOB Santa Ana, CA 92705 RETURN POLICY: N/A SAMPLE PACKS: Contact us. TRADESHOW SCHEDULE: We attend numerous trade shows nationwide. Contact us for details.